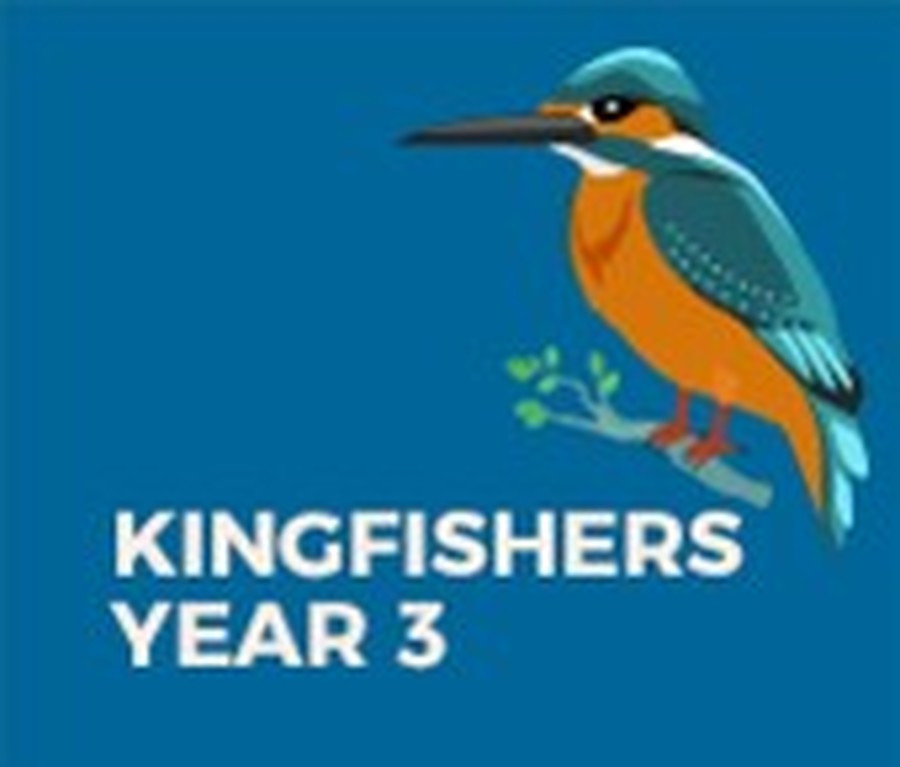 | | | | | |
| --- | --- | --- | --- | --- |
| | | | | |
| Login to your school account to complete activities and save work to your personal folder for your teacher to see. | Login to practise your maths skills. | Scan the class QR code and add your work to your student story. | Search online using Swiggle. Remember to always ask an adult when you are searching online. | Read books online matched to your reading ability and look at your personalised reading list. |
welcome to kingfishers' class page
Class Teacher: Mrs White
Higher Level Teaching Assistant: Mrs Donald
our learning in the spring term
English
We will be learning about non-chronological reports in English which we will link to our previous work on myths and legends. Our model text on unicorns will help us to plan and write our own report about a different mythical creature.
We will also be looking at shape poems as part of our next poetry unit. We will 'magpie' ideas from other poems to help us craft our own shape poem.
Maths
We will be working on time and fractions this half term.
Time - reading/writing time from analogue and (12 hr) digital clocks. We will be using number lines to work out the duration of events and converting times from analogue to digital and vice versa.
Fractions - We will be learning to understand what a fraction is, deciding if an object has been split into equal/unequal parts. Learning to count in tenths and finding fractions of an object or amount.
Science
We will be starting our unit on Animals Including Humans which will continue after the Easter Holidays. This unit helps us to understand how plants/animals get food and what food types/nutrients are needed for a healthy, balanced diet. We will learn about vertebrates and invertebrates along with the names of the bones in a human body. We will also look at the function of a skeleton and muscles before investigating the effects of exercise on our bodies.
PE lessons will be on Tuesdays and Wednesdays - please ensure that you have your kit in school, and that it has your name on it.
Roaming Romans
Our topic this half term is called 'Roaming Romans'. Children will be continuing to learn about the Romans and the changes that they made to Britain.
Topic
Areas that we will be covering in our humanities lessons:
Daily life and homes,
Boudicca's rebellion,
Roman roads,
Hadrian's Wall,
Making Roman purses (In D&T sessions)
French
IWe will be working through a unit on body parts and describing these. We will be learning key vocabulary through songs and rhymes alongside our written activities.
PSHE
In PSHE, we will be exploring how to stay safe online, the rule of law and about communities.
Homework
In Kingfishers Class, children are expected to read regularly and to complete a weekly homework task. These tasks are set on a Friday and are to be handed back on the following Thursday.
Homework tasks are based on maths and English objectives that are linked to class learning. English tasks are usually set as a written or reading objective.

If you would like to contact Mrs White, please email:
katrina.white@exning.suffolk.sch.uk